6 SEPTEMBER, 2017
The United Nations High-Level Political Forum (HLPF) on Sustainable Development is a platform for formal discussions on sustainable development in the United Nations system and is connected to the General Assembly and Security Council organs. The HLPF was held from 10-19 July 2017 at the United Nations in New York, United States of America, where the theme was "Eradicating Poverty and Promoting Prosperity in a Changing World." Heads of state, members of civil society, and the private sector participated in the event with interactive dialogue in order to develop concrete action to achieve the 2030 agenda for development.
I had the opportunity of attending some sessions held during the HLPF, which included the opening session and side events. The opening session included various regions presenting their progress reports on the Sustainable Development Goals. Representatives of each region included in their statements the challenges being faced and the milestones achieved. Some issues all regions face are inequality, poverty, corruption, and Climate Changes. Measures have been taken by member states to resolve the issues and to achieve the goals in their national agendas.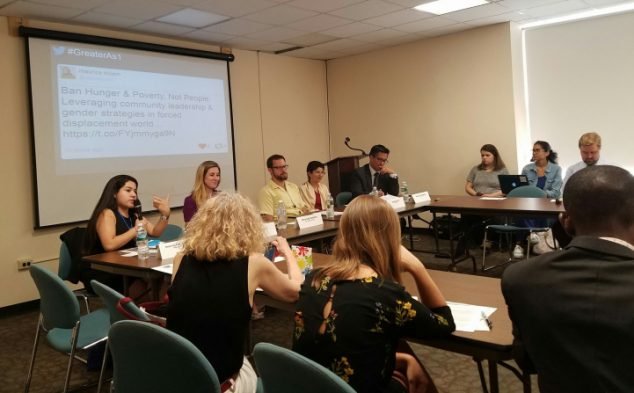 One side event I attended was Making Sustainable Development Goal Number Four's Commitment to Universal, Free Education Vital. The importance of education and its interconnectivity to the Sustainable Development Goals was discussed. It is essential for member states to include education in their national agenda. One of the objectives of the Climate-Smart Agriculture Youth Network is to raise awareness of the importance of climate-smart agriculture and Climate Change and the Sustainable Development Goals. Through workshops and other innovative methods, the organisation is able to educate others, which is one form of education.
Another side event I attended was on land mining and emphasized the importance of agricultural and land rights. Member States also had the opportunity of representing Voluntary National Reviews (VNR), which included the methods of implementation and progress at the national and sub-national level. Forty-three member states presented their VNRs and I was able to listen to the reports delivered by India and the Maldives. Both member states have made progress in improving their nations and have a comprehensive plan in implementing the goals.
The HLPF was a success with participants able to share methodologies and to collaborate with all members of society in order for the Sustainable Development Goals to be achieved.
I also recently attended UNLEASH, an innovation lab to find solutions for the Sustainable Development Goals, in Denmark from 12-21 August 2017, where participants 18+ years from around the world gathered. Participants of the programme were divided into seven themes related to the goals and worked in groups to develop ideas to present to investors, companies, NGOs, and foundations in order to receive funding. The programme was held in various parts of Denmark.