14 AUGUST, 2017
Under the theme "Youth Builders of Peace", Climate Smart Agriculture Youth Network-Uganda participated in the International Youth day Marathon to promote local innovations that are climate smart.
The event was organized by Youth Equality Centre and Funded by Uganda Youth Network. Network for Active Citizens (NAC) in partnership with CSAYN show cased innovations of Njolla Impression, a Social Enterprise that was birthed after the British Council-Active Citizens trainings in Uganda. The program helps one understand challenges in the communities and develop social action plans to solve the challenges. Njolla Impression thought of improving the community by using polythene bags and old car tyres to create climate smart employment for the youth in the slums of Kampala.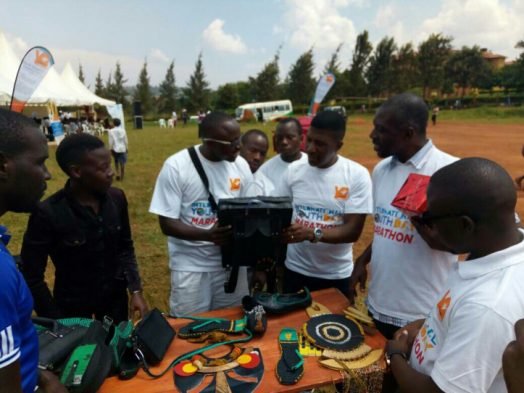 The Youth day was attended by the Mayor of Nakawa Division who encouraged youth to be creative and address issues of unemployment as the major issue that is engaging youth in taking away peace of Young people. In his remarks during the exhibition visits he encouraged all Ugandans to be patriotic in nature by promoting innovations that create employment and also protect the environment.
The international Youth day Marathon that also had space for exhibition attracted over 100 youths with in Kampala who participated in the youth marathon to commemorate the international youth day.
Other side events included HIV AIDS testing, Hip Hop music, Drama Shows and debates. Allen Nabukenya a visual Artist from Kyambogo University uses industrial waste to make products that are consumed by everyday person and have less harm to the environment. In her interview with NTV, she was quoted saying "We need to have love for our country by promoting innovations that are going to create employment and also protect the environment".