For the past decades, Africa has been undergoing a very fast socio economic transformation of its entire community. A young fast growing population, very fast urbanization of cities, expanding food markets etc.  Universities release every year millions of graduates…these young people come out of educational institutions hoping to make it in life, either though formal employment by their respective governments, or joining other non-state bodies hiring and employing them. Many of these opt to venture into entrepreneurial activities of all kinds while many others are not classified in any of the above categories, but left on their own…despite their great talents, skills, acquired knowledge etc. Unemployment is a real African dilemma the continent will struggle with for many more years ahead. Food security remains a goal to dream about, a target to be reached not after tomorrow, but in many years ahead.
African Youth Employment Initiatives AYEI was founded out of this need to bring together this differently skilled and talented young people, not to offer employment but to prepare them to create employment and jobs for themselves and others, initiates ventures that could contribute in crafting sustainable solutions. For AYEI, Agriculture was seen to be the way. A kind of farming which is different from their forthfathers' but, an innovative, more productive and highly rewarding with a high value addition due to its technology application. AYEI took it upon itself to install demonstration farms in rural areas where young people are introduced to best farming practices, to best farming technologies, to improved way of making food…easier yet lucrative.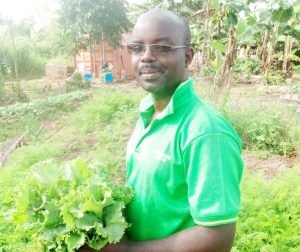 In its different intervention in many countries, AYEI successfully implemented projects that knew standing ovation from both the government and international organizations due to its practical approaches that proved working and impactful, models that can be replicated and sustained over years, procuring jobs, employment and income  for the youth and revenue for the state. These are mind-set changing initiatives geared towards raising a generation of agri-entrepreneurs.
These are technology backed-up integrated farming activities, whose impact on environment has been commendable. Selected trainees mostly young women, have been receiving adequate skills and their capacities enhanced to replicate these initiatives on their own.
This greatly impacted their livelihood. One of this was an aquaculture based food system that combined fish and vegetable production, a project being scaled to reach out as many youth as possible. AYEI thrives innovate ways agriculture can be really smart enough to employ, to feed us all and empower the youth, especially during these of Covid 19 pandemic era where movements of people is to be minimized, where healthy and affordable food stuff are to be produced, where the environment will continuously be protected (bee keeping initiatives to save forest) etc.
Installation of an organic vegetable garden
All year round, we are able to harvest a variety of organic vegetables, healthy fish products. In this year, we are adding pineapple production to multiply seedlings that shall be distributed to our selected youth who shall be assisted by our extinction officers to produce over 1 million exportable pineapples.
Installing a pineapple demonstration farm