The African Youth for the SDGs Training & SDG Dialogues leading to 2023 SDG summit were launched by H.E. Dr. Hans Hoogeveen on 10th Feb 2023, the program was attended by over 100 attendees from across Africa and addressed by represenatives from UN, FAO, WFP, IISD, various Center's of Excellence for GCSAYN.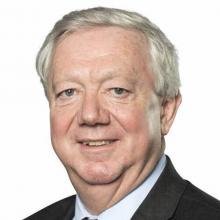 Dr. Hoogeveen serves as the elected Independent Chairperson of the Council at FAO. He previously served as Ambassador / Permanent Representative of the Netherlands to the UN Organizations for Food and Agriculture. Before that he was the Director General for Agriculture and Nature Management at the Netherlands Ministry of Economic Affairs. As such, Dr. Hoogeveen was the most senior civil servant to lead the agriculture, agribusiness, food safety, food security, veterinary and plant health, international affairs, including the European Common Agricultural Policy and the Common Fisheries Policy, international food security, the FAO and other UN affairs, trade liberalisation (WTO), market access and nature/biodiversity managements agendas.
Over the course of the last two decades, Dr. Hoogeveen served in numerous international functions, including as Chair of the Bureau of the Seventh Session of the United Nations Forum on Forests that adopted in 2007, under his leadership, an international instrument on forests which was called a landmark achievement by the UN Secretary General after fifteen years of stalled international negotiations. For his achievements within the Forum, Dr. Hoogeveen received an UN award during the High-Level Special Event on the UN General Assembly's adoption of the international forest instrument.
He is one of the founding fathers of the Global Alliance for Climate Smart Agriculture and the Global Action Network for Oceans and Blue Growth. He also served, amongst others, as President of the Conference of the Parties to the UN Convention on Biological Diversity (CBD) and the Facilitator of the Economic and Social Council of the United Nations (ECOSOC). He was lead regulator in a numerous international processes on behalf of the EU and Netherlands government. Dr. Hoogeveen holds a number of other positions. He serves on several boards, including Yale University's Governance, Environment, and Markets Initiative, and Forest Trends, a leading International NGO on innovative natural resource policy in Washington, D.C.
Dr. Hoogeveen is Professor of Practice in Natural Resource Policy at the Fletcher School of Law and Diplomacy in Boston. He is also lead lecturer in European Policy at the Netherlands School for Public Government. He received his doctorate degree from Wageningen University, in close collaboration with The Fletcher School. Dr. Hoogeveen also received a law degree in the Netherlands and also holds a master's degree in Public Administration. He also completed a programme for Senior Managers in Government at the Harvard Kennedy School of Government.
Dr. Hoogeveen has written a number of scientific papers on sustainable development and natural resources, including seminal work on lessons learned from global forest governance.