5 AUGUST, 2017
On Friday, 4th August, 2017, Climate-Smart Agriculture Youth Network-The Gambia better known as CSAYN-The Gambia, held its first meeting at the Global Youth Innovation Network Gambia Chapter (GYIN Gambia Chapter) secretariat in Churchill's Town in the Kanifing Municipality.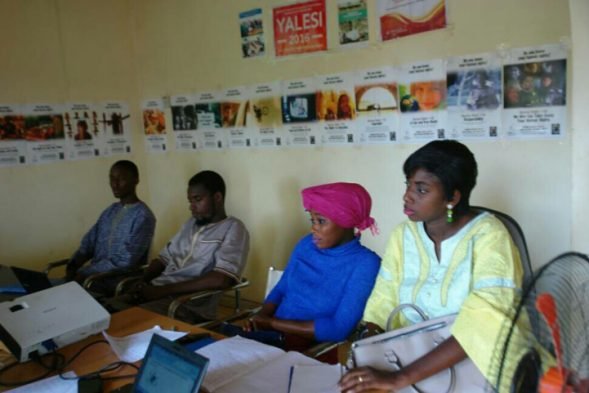 The meeting started with an individual prayer and then followed by introduction of journalists, youths and students. Mamadou Edrisa Njie, CSAYN-The Gambia, who serves as the Country Coordinator gave an overview of CSAYN as well as the propose formation of CSAYN-The Gambia by saying that CSAYN is very much interested having a Gambian chapter. According to Njie, it was Dr. Amie Sillah, who introduced him (Njie) to Mr. Divine Ntiokam via email adding that in the first email that he (Njie) received from Mr. Divine explained that CSAYN is a group of volunteers that have a strong interest in Climate-Smart Agriculture. He informed the meeting that the main objective of the CSAYN is to create awareness, sensitize and build the productive capacity of young people and people living with disabilities (PLWD) on CSA concepts for adaptation, reducing emissions (mitigation) and increasing food productivity in a sustainable manner. Njie used the opportunity to share CSAYN documents thus informed the meeting that CSAYN-The Gambia is looking for youths, journalists, bloggers, students that are passionate in climate change, environment, livestock, agriculture, etc.
The meeting was informed that it was earlier suggested to Mr. Divine that CSAYN-The Gambia, need to be registered with the Ministry of Justice (MoJ) as well as the National Youth Council (NYC) to legalise its status in the country. Mr. Ebrima Bah recommended that membership to be open all Gambia youths irrespective of their tribe, religion, creed, or political affiliation. Mr. Sulayman Ceesay told the meeting that forming an association is "not easy" saying that selected interim executive members need to work hard for the success of the network. He added that, the interim executive need to work closely for the success of the network. Mrs. Mariam Saine encouraged members to work in unison adding that the success of the network entirely lies in the hands of the interim executive. The meeting ended with closing prayers and selection of the interim executive members.
At the end of the meeting, the following points were recommended;
Selecting an Interim Executive Members Drafting CSAYN-The Gambia.
CASYN-The Gambia to be registered.
CSAYN to share their previous reports (Activity and Financial) with CSAYN-The Gambia.
CSAYN to share its activities plan for 2017/2018 with CSAYN-The Gambia.
Share CSAYN Donors list with CSAYN-The Gambia.